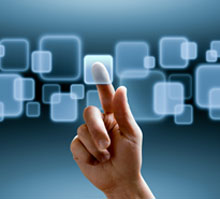 Targets and history of Klotz Communications ...
Klotz Communications has established close relationships with highly-skilled local partners to guarantee the best possible support for its customers and end-users. Klotz Communications is the inventor of audio and control networking solutions for the audio and media industry.
For over twenty years we have been successfully designing, manufacturing and supplying a broad spectrum of high-quality audio solutions for the Broadcast and Public Address markets. Our products range from stand-alone On-Air Mixing Consoles for Radio and TV solutions to complete solution packages from simple to highly complex audio and control networking systems.
A strong orientation towards innovation, extensive technical knowledge and customer focus form the basis of Klotz Communications high technological standards and have formed our excellent reputation: Our customer list reads like a "Who's Who" oft he media industry.
Klotz Communications is dedicated to producing the very best and most intelligent digital audio processing and distribution systems, control surfaces and routers for all aspects of the professional audio industry. The products and solutions were specifically created to be used in any professional public address and broadcast facility. They provide new workflow efficiencies, enabling our customers to benefit from lower installation and operating costs.
The beginnings of Klotz Communications can be traced back to 1990, as a reaction to the industry move to digital audio processing. With a clear insight into market trends and based on comprehensive analysis, the company developed tools to switch its core business to digital audio processing, assuring the company's future success. The company's goal was to be the driving force in the market, and not to be driven by competitors or technological development.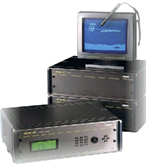 First Fiber Optic transmission system
for audio signals OAK_LINK 1989

DC I console installed at Astro Radio
Kuala Lumpur in 1996

Paradigm On-Air Radio mixer 1999

DC II console presented in 2000

AEON - the first blade shaped console
introduced 2005
... and the long history of Thomas Klotz
Thomas Klotz started his career in 1979 when he founded his first company named Thomas Klotz Musikelektronik. Soon after its foundation, the company was the first in Germany, and probably in Europe, specializing in the manufacture and distribution of special audio cables such as multicore cables, microphone and instrument cables.
In 1981 the company expanded and started to manufacture loudspeaker cabinets for live sound applications. In the mid 1980s electronic products such as amplifiers and other PA-related devices became part of the product range and were manufactured and sold under the brand KLOTZ.
In the late 1980s the company started to invest in the development of a digital snake which was sold first to Wembley Stadium in London. The first users of that system — which was unique at that time — were the Rolling Stones and Madonna.
Around the mid 1990s many international broadcast and radio stations started a new business model and big investments were made to form national and international radio and broadcasting networks. These radio networks sought audio distribution networks that were capable of sharing content. Identifying this trend, Thomas Klotz raised venture capital and expanded the digital division of the company, resulting in the previous Klotz company splitting into Klotz Digital and Klotz A.I.S. GmbH.
From these beginnings until 2009, when Thomas Klotz left the company, Klotz Digital developed many ground-breaking products and led the industry with innovation in areas such as digital mixing consoles, audio distribution networks, digital PA systems and many more. Between 1996 and 2008, Klotz Digital founded and operated full service subsidiaries in the US, Asia and Australia, and sold thousands of mixing consoles, routers and audio networks to customers all over the world. Extremely reliable, nearly unbreakable and inclusive of comprehensive technical support from Klotz Digital, these products gained a great popular following within the audio industry.
After leaving Klotz Digital Thomas Klotz focused on innovation and product development with his company Klotz Digonomics GmbH. Over the past few years, Thomas Klotz has embarked on a strategic re-organization program, which has led to the establishment of the new company Klotz communications GmbH based in Munich, Germany.
Thomas Klotz takes with him to Klotz Communications the tradition and success the brand Klotz has represented for over 35 years.