Integra Production and On-Air Consoles
Integra 12 fader console with monitor section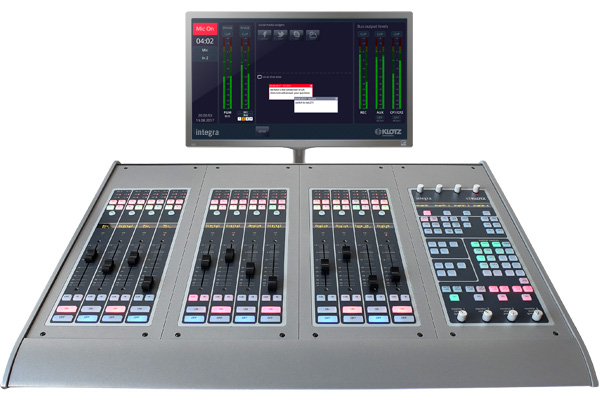 Top features:
Fully networking console
Modular design - Available from 8 to 24 faders – up to 640 input and 640 output channels
Comfortable user interface - Easy to configure
Comfortable graphical user interface (GUI)
Hot-swap of cards without system shut down
Audio control surface available from 4 to 24 faders
Fully assignable fader channels
All channels fitted with OLED are easily labeled and renamed
Integra consoles are extremely versatile as they can be configured either as stand-alone or as networking consoles. The fully modular design allows configuring mixing consoles from 8 to 24 faders - up to 640 input and 640 output channels. Many features can be programmed individually by the customer such as monitor feeds, GPIs and GPOs, sources and busses and logic commands. The control surfaces are connected by either IPX/SPX or TPC/IP protocol to the G2 audio engines and routers and can share all sources and outputs within the audio network. Using the IPX/SPX protocol interface, Integra consoles are an ideal option to upgrade existing VADIS* system installations as they are fiully VADIS* compatible.
Integra radio expert system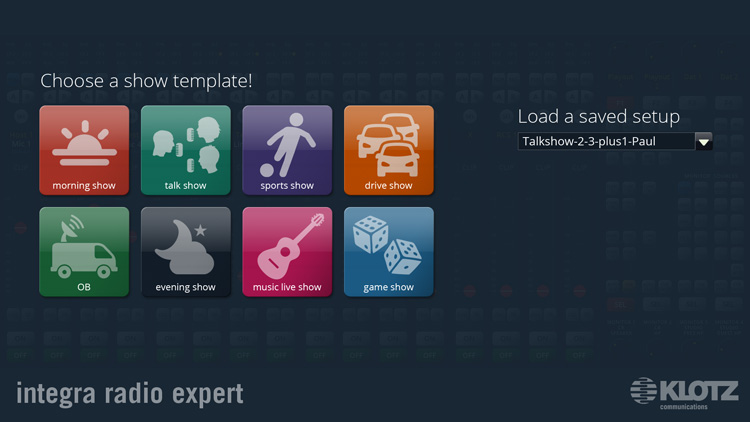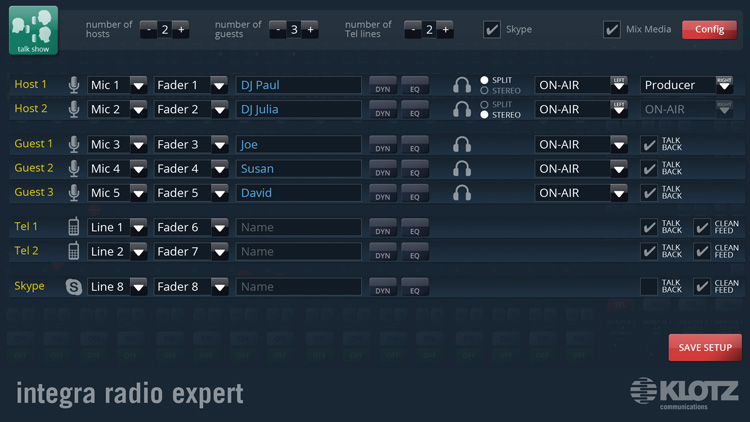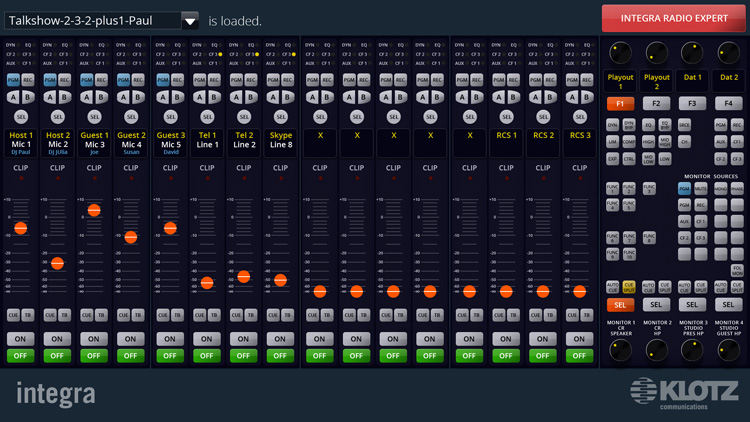 A unique feature is the option to install a break-in / break-out unit within the console frame. The interface unit is fitted with 8 audio input channels which can be configured either as stereo or mono inputs and outputs. The interface unit uses a Dante protocol-based Ethernet connection to the main frame which can be located in the main control room (MCR).

The architecture saves rack-space within the studio and prevents the operating zone from being heated up.
Sophisticated control software gives easy access to all necessary control functions.

Integra consoles offer a range of features that can be configured via the Integra configuration tool. Users can define presets for audio settings, function keys for GPIO and other control features, external sources for control room and studio monitoring, and snapshot keys to store the entire console set-ups.
Dimensions of Integra modules
Console frame
Width
Depth
for 2 modules:
406 mm / 15.98"
585 mm / 23.03"
for 3 modules:
601 mm / 23.66"
585 mm / 23.03"
for 4 modules:
796 mm / 31.34"
585 mm / 23.03"
Audio engine
19" / 4 RU rackmount

Console frame
Width
Depth
Mounting depth
Cutout dimensions
for 2 modules:
450 mm / 17.72"
526 mm / 20.71"
47 mm / 1.85"

W: 400 mm / 15.75"
D: 495 mm / 19.49"

for 3 modules:
645 mm / 25.39"
526 mm / 20.71"
47 mm / 1.85"
W: 595 mm / 23.43"
D: 495 mm / 19.49"
Audio engine
19" / 4 RU rackmount